One of the biggest challenges you face in the trucking industry is hiring truck drivers. Recruiting and retaining qualified drivers is a widespread concern so you're not alone, but there are effective advertising techniques that can vastly improve this issue. We're referring to data mining.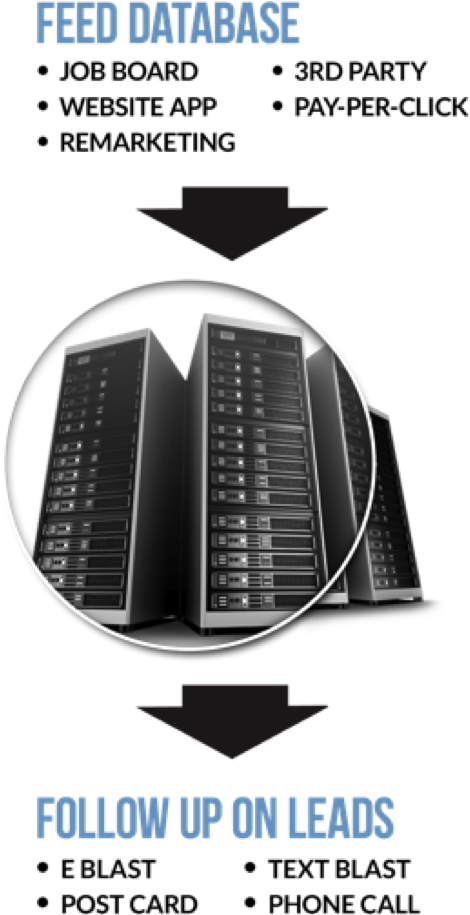 First, let's touch base on what data mining is and how it can help your trucking company recruit truck drivers. Simply put, data mining is attracting interested drivers and collecting their contact information for your database. Through data mining, you can collect detailed information to help you identify the most qualified drivers and then pull from that database when you need to at any time.
Using data mining through digital platforms is powerful–because, like the rest of the country, drivers are looking for work online. Many are using their laptops, tablets and smartphones to access the Internet to find driver positions, which leads us to our first topic…
Online Recruitment for the Trucking Industry
Fortunately, there are many online outlets where you can reach potential truck driver candidates, collect their information and contact them as needed.
To get the word out about your company and create your pipeline of prospects for future job opportunities, be sure you have an online marketing strategy for driver recruiting. Your recruitment strategy should include key components like: pay-per-click campaigns such as Google AdWords, job boards and job aggregators, content marketing and various brand-building tools like social media to attract leads for trucking jobs. You'll soon have a steady stream of leads interested in your truck driving positions as they become available.
In addition to implementing an online approach for data mining, you can employ inbound marketing strategies so prospective drivers will come to you. Take a look…
Inbound Marketing Tactics to Attract Qualified Drivers
By creating content specifically designed to appeal to truck drivers, inbound marketing attracts qualified prospects to your company and keeps them coming back for more. Trucking companies should use a combination of inbound tactics including: content creation, remarketing campaigns, CTAs, and social media marketing. Use these sources to send drivers to a customized landing page, where they're prompted to fill out a mini-application. This mini app populates your database with contact details to help pre-qualify your leads and save you time. The sources bringing the most leads to your website are easily trackable, so you'll know what's working and what's not.
Work Your Database
Anytime your incoming application numbers have room for improvement, use your newly gained database. The next step in using data mining is to activate your list by sending out:
Email blasts
Text messages
Postcards & PURLs
Or have a recruiter personally follow up with each lead
Since these drivers once expressed interested in your company, reminders spur them to continue the application process. End messages with clear call-to-action directing them where to go for the next step.
Optimize It All
To maintain a healthy database and keep those potential drivers interested—and attract new leads—ensure your various platforms and recruiting advertising methods are high-quality and user-friendly. For example, you'll need:
An optimized and SEO-friendly site, using targeted keywords and SEM (search engine marketing) strategies to gain traffic
A mobile website, using a responsive design to ensure your site looks good and functions properly on tablets, phones, etc.
Consistent blogging of useful, interesting content, including relevant keywords. This helps your company's content show up in natural search results when prospects enter typical search terms–looking for trucking jobs.
Social media posts keep followers interested–and even entertained—giving them incentive to subscribe to your email list or share your posts/tweets.
No time to handle data mining to recruit truck drivers? Need guidance? Contact the Hightower Agency here for more information about our driver recruiting services. Our recruitment advertising agency can get your trucking company where it needs to be!
Some of our truck driver recruitment services include: data mining, search engine marketing, creation of landing pages, developing responsive websites, public relations for the trucking industry, radio advertising, remarketing, social media, creating blogs to generate more driver leads, managing Facebook ads to recruit drivers, email marketing, Google AdWords, creation of mobile sites, ad campaigns, publication ads, brochures, Internet placement, newspaper placement, ad copy, website redesign and more.
Click below for a FREE consultation and ask us how we can improve the visibility and number of qualified apps in your truck driver jobs:
{{cta('273ec77d-0bab-4534-85ae-bd951cd98e3f')}}