---
Being a driver recruiter allows you the freedom to be creative in your profession. The recruiting industry is full of endless opportunities and can bring much satisfaction! Of course, driver recruiting also brings with it the pressure to succeed; the current shortage is no easy task to overcome, and as a recruiter you must be on top of your game to find and hire qualified truck drivers.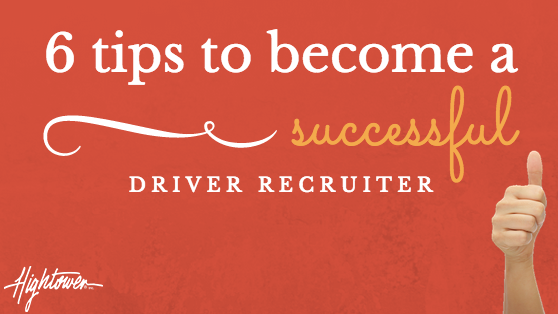 ---
Powerful driver recruitment strategies are a pivotal aspect of hiring top talent. Recruiters work with both candidates and their team to set expectations, understand their needs, and match the right people with the right opportunities. This requires them to be agile, patient, and resourceful. If you're in this pool and feel like you could improve these traits, take a look at six tips for success:
1. Be Proactive
This tip is key to a becoming a successful driver recruiter! The more proactive and fearless you are in your recruiting efforts, the better chance you'll have at putting qualified candidates behind the wheel. Fearlessness should come into play with cold calling, ability to ask questions, ability to tell applicants they aren't the best fit, and communicating with your team.
As you use available recruiting tools for finding truck drivers, you shouldn't solely depend on them for all the work. These tools (job boards, PPC campaigns, social media, etc.) are fantastic, but don't rely on sending a message in hopes passive candidates will respond. Proactively reach out to your leads (of course respecting their time and availability.)
2. Wear Multiple Hats
The most successful recruiters are part salesman, fact finder, counselor, and consultant. They devote the time and effort to understand the wants, needs, and concerns of prospects. Being comfortable wearing multiple hats is essential for a rewarding career as a driver recruiter.
While it's up to you to educate applicants on the benefits of driving for your company, other situations and opportunities will arise. If candidates need help or have questions that may be outside of your realm, go above and beyond to get it settled. Trust us—you'll be rewarded with the results!
3. Check In With Your Leads Early & Often
One of the top complaints candidates have when it comes to coordinating with recruiters is responsiveness – or lack thereof. If you're too slow to respond to calls and emails, you may lose the chance of hiring of a qualified driver.
Responsiveness in today's busy world is extremely valued. Successful recruiters make responding to and regularly checking in with driver prospects a priority. Check in with your leads early on and stay on top of follow-ups. The best method to managing this is to stay organized, bringing us to our next tip…
4. Stay Organized
Having an organized approach in your everyday duties is essential to a becoming a successful driver recruiter. If you're managing multiple positions and coordinating with numerous candidates, things can start to pile up if you're not keeping these details organized. Take the time to structure your tasks, folders, emails, calendars so you can better prioritize your projects. The more detail-oriented you are, the closer you'll be to achieving your recruiting goals.
5. Stay Ahead of the Trends
Recruitment advertising trends are regularly changing and updating, and it's important you stay updated, too. It's essential to do your research so you're not way behind competitors. Are there new advertising trends you know about? Which digital platforms are best for targeting your audience? Are your website(s) are optimized for mobile and do they provide a user-friendly experience?
You'll be doing yourself a major favor by staying ahead of trends and making it easy for potential drivers to learn more about you.
6. Never Stop Expanding Your Circle
It's good practice to devote a large chunk of your time and efforts to your most qualified applicants, but it's just as important to continuously work on seeking new talent and expanding your circle of candidates. This will keep your pipeline full, a necessity for successful driver recruiting. It's better to have more than enough prospects than to rely on a few, so always be on the look out for new opportunities.
As you look for ways to find truck drivers, try your best to be determined and creative! Being a highly successful driver recruiter isn't an easy job, but it can be done and will bring you a lot of satisfaction!
---
Interested in the best ways to recruit truck drivers? The Hightower Agency can help you meet your recruitment advertising goals. Get in touch today!
---