There are many ways to recruit truck drivers: data mining, search engine marketing, creation of landing pages for lead generation, retargeting, social media, blogging, Facebook ads campaigns, email marketing, Google AdWords, mobile marketing, newspaper ads, radio ads… you get the idea. But have you ever considered advertising your trucking company to potential drivers on an email service? You can!
It's nearly impossible to imagine life without email. Various types of digital platforms may come and go, but email still remains the medium of choice for online communication. Whether it's on a desktop or mobile device, the country is actively checking their email on a daily basis. What's more, a large percentage of email users are Gmail users.

Ever since Gmail came onto the scene 10 years ago, it has surpassed Yahoo Mail, AOL and other email providers on several levels and has become one of the most popular and widely-used email services. According to a recent Yesmail study, Gmail has the most engaged user base. It also says the number of Gmail users is growing far faster than any other free email service. In addition, there are over 425 million Gmail users. What that being said, the ability to recruit drivers on this platform is pretty nifty — recruit truck drivers with Gmail Sponsored Promotions!
Gmail Sponsored Promotions
Through Gmail Sponsored Promotions (GSP), your company can connect with drivers through an innovative and engaging ad format. This platform allows you to use the right media type on the right screen at the right time to reach your target audience effectively. Using Gmail Sponsored Promotions to recruit drivers, you can:
Drive traffic and qualified applications
Build build awareness
Grow loyalty and retention
How Does It Work?
If you're looking to recruit truck drivers on Gmail, GSP offer great display options. It allows you to deliver subject line, teasers, and full-page ads directly to your targets' email inboxes. Teaser ads are displayed:
1. In the email pane on the right hand side of the user's email
2. Above the email fold
Check out this example: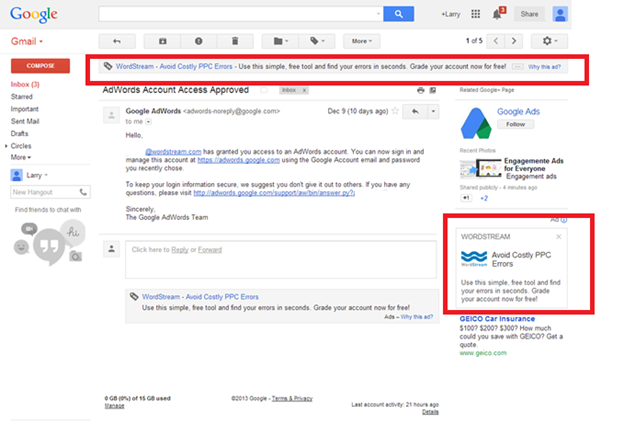 With those teaser ads are clicked, they will be taken directly to your trucking company site or landing site. It's simple, clean, and powerful. We'll tell you more about how to advertise on Gmail!
Why Gmail Sponsored Promotions Are Effective
This advertising technique works well because your company is able to reach users while they're checking their personal email, a place many people visit on their desktop or mobile device everyday. Gmail Sponsored Promotions provide relevant messages to prospective drivers by targeting users through a range of methods:
IP based

Geo targeting (country, state, and city)

Language

Domain – this allows advertisers to target people who have domains (ex: hightoweragency.com) in their inbox

Keyword targeting – target users who have specific keywords in the 300 most recent active emails (ex: looking for truck driving jobs, truck driver positions, etc..)

Demo targeting (age and gender)

Job targeting

Email list targeting – specify a list of email addresses to target against

Product purchase (receipt) targeting

Conversion tracking

Device targeting
Once the ads are set in motion, they provide optimum delivery by showing ads only 10x per user within a 30-day period until they open or dismiss it. It's also cost-effective; you only pay once per user per campaign with Gmail's cost per click pricing. In addition, Gmail Sponsored Promotions average 20% higher CTR (click through rate) over regular text ads within Gmail.
Another good reason to try GSP to recruit truck drivers is because these ads are displayed on mobile devices. Your company can reach drivers across multiple devices, a key component to a successful driver recruitment strategy. Gmail Sponsored Promotions run on Android, iOS and mobile web. You can reach potential drivers wherever they are and deliver high-impact ads, automatically adjusted for mobile devices.
The Gmail Sponsored Promotion interface is for those who have an account in Google AdWords. This new type of campaign showcases advanced targeting features, HTML creative, and flexible budgeting and bidding options, making it a very attractive channel to recruit truck drivers. Advertising your trucking company on Gmail to recruit drivers is a succesful tactic you should try!
No time to handle Gmail Sponsored Promotions to recruit drivers? Need guidance? Contact the Hightower Agency here for more information about our driver recruiting services. Our recruitment advertising agency can get your trucking company where it needs to be.
Some of our truck driver recruitment services include: Gmail Sponsored Promotions, retargeting on Facebook, data mining, search engine marketing, creation of landing pages, developing responsive websites, public relations for the trucking industry, radio advertising, remarketing, social media, creating blogs to generate more driver leads, managing Facebook ads to recruit drivers, email marketing, Google AdWords, creation of mobile sites, ad campaigns, publication ads, brochures, Internet placement, newspaper placement, ad copy, website redesign and more.
Click below for a FREE consultation and ask us how we can improve the visibility and number of qualified apps for your trucking company:
{{cta('273ec77d-0bab-4534-85ae-bd951cd98e3f','justifycenter')}}