---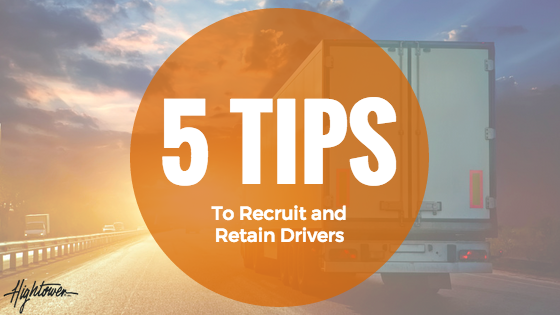 A lot of the time we talk about driver recruitment advertising, the best channels to place your campaigns, how to optimize your strategy, etc. Today we're going to remind you of an essential part to finding and recruiting truck drivers: retaining them. Because what's the point of going through the steps of hiring applicants to just have a high driver turnover?
---
You may be sadly aware that high turnover is costly and makes it difficult for fleets to operate efficiently. A recent article says, "Despite paying higher wages, many large U.S. truckload carriers are still struggling to keep drivers in their trucks. The annualized driver turnover rate at large truckload carriers rose one point to 97% in the third quarter last year."
Of course salary and benefits are extremely important when it comes to sticking with a job, but if employees are unhappy, they'll realize it's worth looking into other options. Aside from pay, how can you keep them behind the wheel? Check out these helpful tips to retain truck drivers.
5 Driver Retention Tips:
1. Be Engaging
Some lessons we learned about high school popularity are oddly applicable in adult life. Do you remember that girl or guy that would say "Hey (Your Name)" walking down the hall? You appreciated it. You remembered that person when voting for homecoming court. This analogy tells us that being actively engaged and getting to know others goes a long way.
Instead of having a vague open door policy, make the effort to meet drivers during orientation. Get to know as many as possible by name and ask them questions. Show up at their driver meetings. Get your team to engage!
2. Be Honest and Upfront
If your driver recruiters communicate unrealistic expectations to new hires, they aren't going to stick around long, and you're back to square one. Not to mention you'll be subject to bad word-of-mouth from those disgruntled former drivers. So, don't sugarcoat the job. It's way better to be upfront at the get go than to be misleading towards prospects.
Tip: Some suggest to pay recruiters a straight salary rather than on a per-driver-hired commission. When recruiters are paid just to get drivers in the door, they may act on that pressure by not revealing all job aspects upfront.
3. Get Drivers Home
The majority of the truckload fleets with a low turnover rate are those who get their drivers home periodically. It may be time to consider more regional or dedicated routes, improved coordination with shippers on delivery times, sophisticated planning systems, or providing better visibility for drivers' schedules (this helps them plan and have more stability in this area).
Yes, it's more costly to bring trucks back on a frequently basis, but allowing drivers to have a more reasonable lifestyle could be well worth lowering your turnover rate.
4. Don't Use Social Media For Purely Advertising
If you're using social media to recruit drivers, great. But you know what makes an even better social media presence? Forming a community. Instead of having a stream of constant ads, provide a platform for open discussion and relevant, engaging content.
Ask current drivers what they like about your company. Upload pictures of what's happening around the office. Post stories and photos of happy drivers. This is great for retention because it offers a strong connection between you and drivers. Everyone's engaged, comfortable, and feels included.
5. Ask Drivers Their Opinions
Before you embark on a big improvement plan, take the time to find out what drivers really want. It sounds simple, and it is. Set up driver advisory councils or distribute easy-to-use online surveys. Tools like SurveyMonkey are free and give responses in real time.

Whether you go about it in a formal or informal way, the point is to actively ask drivers for their feedback. Especially if you survey them and act on their suggestions, you'll be rewarded with higher satisfaction rates. Let them be heard!
---
Do you have any recruiting tips to share? Comment on our blog below!
---
Interested in more ways to recruit and retain truck drivers? The Hightower Agency, The Leader in Recruitment Advertising, is here to help you meet hiring goals. Contact us today to hear more!