On October 16, 2013, the Federal Communications Commission's revisions to its Telephone Consumer Protection Act went into effect. So what are these revisions?
The Telephone Consumer Protection Act now requires that businesses must obtain "express written consent" prior to advertising or telemarketing through (1) autodialed calls or text messages, or prerecorded calls to consumers' mobile numbers, and (2) prerecorded calls to consumers' residential lines. In addition, the FCC's revisions eliminate the exemption that allowed businesses to place prerecorded advertising or telemarketing calls to a consumer's residential phone line if the business had a pre-existing business relationship with the consumer.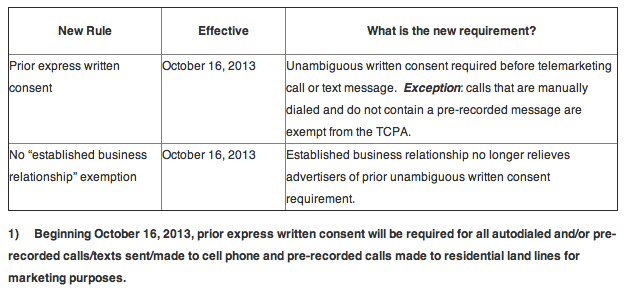 Since the FCC's new regulations apply to autodialed or prerecorded calls (including text messages) to wireless telephone numbers that contain an "advertisement" or constitute "telemarketing" and require "prior written consent", it's important for all parties to be in the know. Violations of this FCC regulation can reach as high as $1,500.00 per violation (on a per call basis) and subject those to a possible class action lawsuit.
Prior written express consent is defined as a written agreement, containing the telephone number and signature of the person called, that includes a "clear and conspicuous disclosure" that by signing the agreement the person authorizes telemarketing calls from the seller using an autodialer or a prerecorded message. The signature on the consent agreement may be an electronic signature, which can include a signature obtained by e-mail, website form, text message, telephone keypress, or voice recording.
If you are obtaining phone numbers from submitted applications or contact forms, we encourage you to consult with counsel to make sure that all applications and contact information coming into your system meets the FCC requirements and you are not sending any autodialed, prerecorded, or text messages to persons who have not consented to receive such calls. If you are using third party bulk or direct apply applications, make sure that all participating job sites are in compliance with this regulation before sending any text or phone messages.
As part of our due diligence and commitment to our clients, Hightower Agency will make every reasonable attempt to ensure that the mobile phone numbers we receive on behalf of our clients are compliant with FCC regulations and legal requirements.
If you have any questions about your recruiting efforts, please feel free to contact the Hightower Agency.