---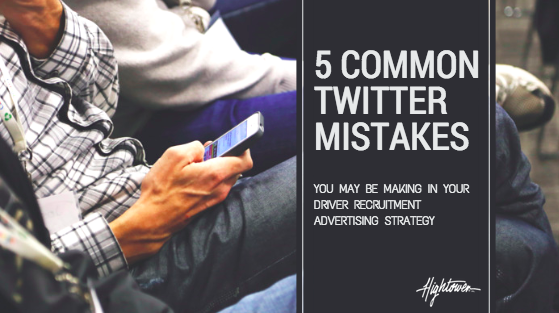 In honor of Social Media Day 2015 (yes, it's real) we're here to give you a few tips on using Twitter to recruit truck drivers. Incorporating social media in driver recruitment advertising is a must, but you may be poorly publishing content on Twitter that could hurt your brand. Let's talk about common mistakes on this popular platform and how to fix them.
---

To grow your following, increase engagement, and generate driver leads, you must continuously work on improving your company's social media presence. Take a look at these driver recruiting tips that cover five common Twitter mistakes:
1. Tweeting Only Text
Visuals, visuals, visuals! We can't stress it enough when it comes to content creation. The most common learning style is visual, meaning the majority of people remember material with images associated to it. So one of the biggest mistakes on Twitter is forgetting to include a photo(s). A big, bold image is significantly more noticeable in the Twitter stream than a tweet with only text. Try to attach at least one photo (you can include up to 4) in your posts.
2. Wrong Image Dimensions
While we're on the subject of photos, let's talk about another common mistake: wrong image dimensions. When you're displaying graphics that don't properly fit on your Twitter profile, it looks really bad — to put it simply. You don't want prospective drivers to land on your account and leave with a poor first impression. You want to be looking fab!
There are three main images you should know about and their recommended sizes:
Profile photo – 400 x 400 pixels. This is the main square image that represents your brand across the network.
Header photo – 1,500 x 500 pixels.

Your header photo spans the top of your Twitter profile page.

In-stream photos – 440 x 220 minimum. These are the photos you can attach to your tweets.
3. Not Including the Right Shortened URL
Twitter is used to send and read short 140-character messages. Because of this limited character space, it's important to provide your followers with more information. A common mistake is not including the best fit shortened URL for your messages. For example, if the topic of your tweet is contacting a driver recruiter, you should send followers to your contact form. You wouldn't want to send them to the homepage of your site where they have to search for recruiter contact info.
Learn more about Twitter's link-shortening service here. You can also check out similar URL shorteners like Google and bit.ly.
4. Not Tagging Others
Social media should be like a conversation — 50% is about you, and 50% is about the other party. It's about engaging and sharing interesting content, and that includes other people's content. As you provide tips and news related to the transportation industry (or anything of interest for your target audience), be sure to avoid the mistake of not tagging the original source.
Say for instance you tweet a blog post on healthy truck driving recipes from another source. When doing so, tag their Twitter account using the @ symbol. Example: "Check out these recipes from our friends @________." Not only is this giving proper credit, but that source will be notified of your tweet. This gives ample opportunities to recruit drivers and increase brand exposure.
5. "Tweeting and Leaving"
The final common mistake we're leaving you with today is what we call "tweeting and leaving." In other words, leaving your Twitter account unmanaged. If you're publishing tweets, that's very good – but not having someone manage your account means missed opportunities for finding qualified drivers. What if they ask for more information? What if someone else out there is tagging your company in tweets? If you're not monitoring Twitter, you won't successfully grow on social media. So be sure that your networks are being managed correctly!
SEE ALSO: How to Have Your Best Year on Twitter
---
Happy Social Media Day! #SMDay
Questions? Comments? Share them on our blog below!
---
Interested in the best ways to recruit truck drivers? The Hightower Agency, The Leader in Recruitment Advertising, can help you meet your recruitment advertising goals. We're happy to schedule a free consultation. As one of the top driver recruitment agencies, we offer it all!
{{cta('5f531321-f882-41ad-8862-e01040a6b367′,'justifycenter')}}